Charlie Dawes
Everybody's Artist Photographer
Opening 11am 30th November 2019
Open 30th November to 15th December 2019
Starting on Saturday, November 30th, this exhibition has photos of the Hokianga, from family portraits to landscapes, taken during his time in the Hokianga during the late 1800s to the early 1900s.
A Pōwhiri held at 11am on the 30th November to acknowledged the artist/photographer and the people in the photos; they are our community's taonga.
Come along to this excellent snapshot of Kohukohu at this time.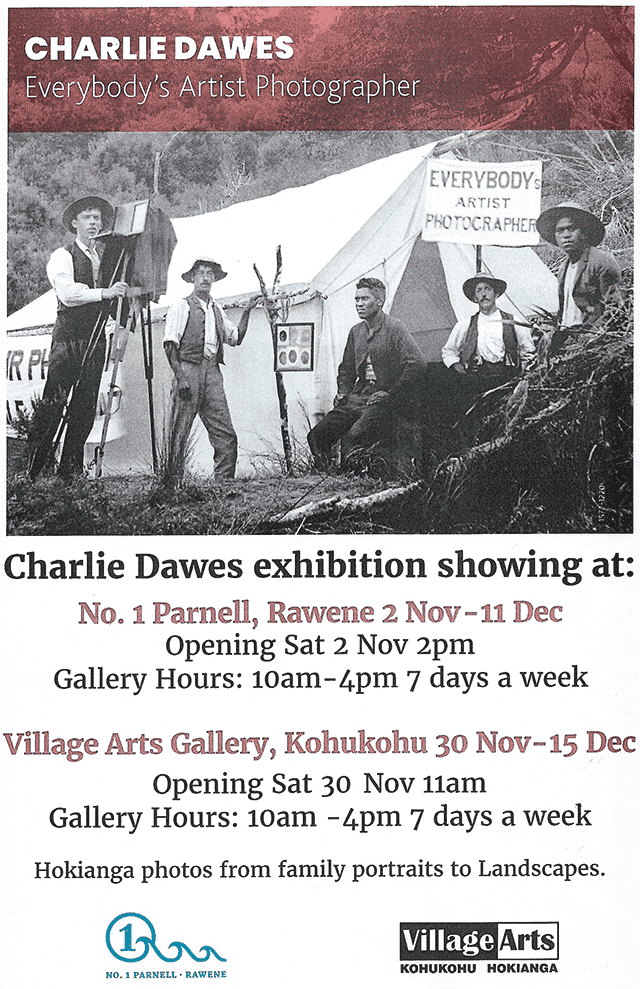 Charles Peet Dawes spent most of his life in Kohukohu, Hokianga. He was a jack-of-all-trades, working variously as a carrier, mailman, nightsoil collector and orchardist.
He was also a photographer, running a studio in Kohukohu probably from at least 1892 to around 1925.
When he died in 1947 his glass plates were dispersed, but a box of his plates were found under a house in Umawera in the late 1960s. Their value was recognised by Ben Te Wake from Te Karaka, and later given to the Northern Advocate in Whangārei. In a junk shop in Auckland's Upper Queen St. in the 1970s. another box of plates were found, and around 475 negatives were discovered in a secondhand store in Kaitaia in 2012.
Together with the 1,650 glass negatives gifted by Dawes descendants in 2018, these now form the Dawes collection at Tāmaki Pātaka Kōrero Central City Library. Many of the photographs in this collection are on display for the first time
This collection is an extraordinary documentation of the life and times of the people of Hokianga at the height of the timber industry.
Village Arts would like to thank the Auckland City Library, and No.1 Gallery in Rāwene.
We acknowledge and mihi to the local whānau whose ancestors are recorded here in this collection.
---
The gallery also has a selection of water colour paintings of colonial buildings by local identity Malcolm Pinkney.