Boxed
An Exploration of Contained Space
3rd October to 5th November 2015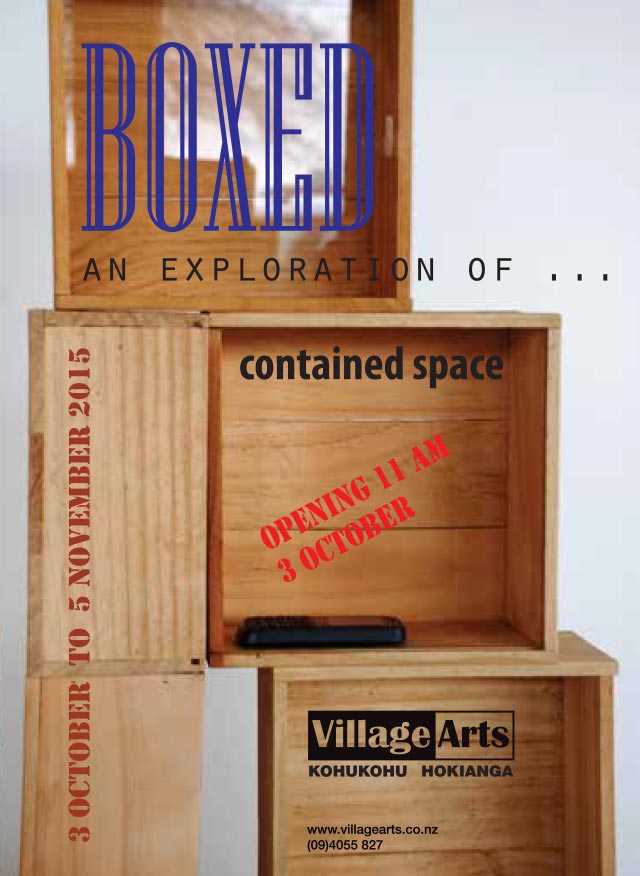 Village Arts Gallery in Kohukohu is celebrating 10 years of supporting and promoting visual arts in Northland with their anniversary exhibition Boxed – an exploration of contained space.
Artists have chosen themselves for this exhibition by claiming a 20x20x10cm wooden box which they have worked in their own way according to their art practise. Themed exhibitions like these are often hugely intriguing because of the wildly differing transformations of the same object by various artists.
Village Arts extends a warm welcome to all to the opening or to visit the exhibition anytime until it closes 5th November.
From its beginnings in 2005 as an art and craft venture in a somewhat dilapidated shop, Village Arts is now a white wall gallery, one of its operating principles being placing emphasis on hanging each artwork so that its visual language can be read without distraction.
While Village Arts is grateful for a small amount of funding received for a small number of projects, it is largely the the passion of its team of volunteer trustees and gallery assistants which keep the standard of this gallery so high.
In 10 years Village Arts has staged over one hundred gallery, group or solo artist organised exhibitions and showcase exhibitions. It has also been the venue for four annual Outpost Hokianga summer pop up shops, several film showings and book launches, and numerous artist talks.