Shrine – Ahurewa March 12th – April 9th 2016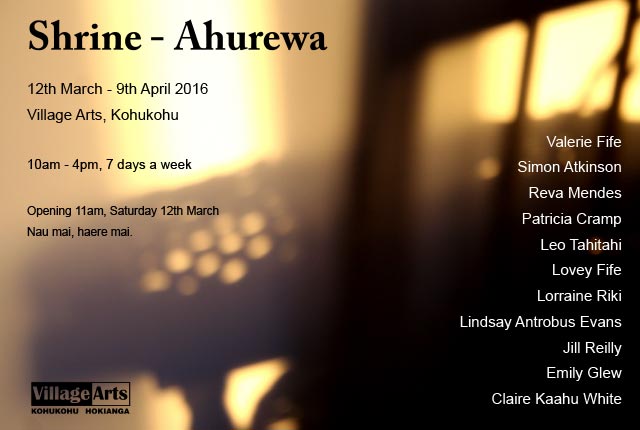 'Shrine' is a place of veneration for a person or event, visited by pilgrims: 'Ahurewa', a Maori place of ritual. These words resonate through history and consciousness; evoking oracles, religions and churches; altars, spirituality, rites and customs.
"What does 'Shrine – Ahurewa' mean to you?" is the question being asked of ten artists from Hokianga – one presently living in Auckland – and one from Christchurch, in an exhibition opening at Village Arts gallery in Kohukohu on Saturday 12th March at 11am.
The inspiration of Claire Kaahu White, Lovey Fife and Valerie Fife, the simple brief compels artists to look deeply into themselves, their lives and their artistic practice.
Personal, social, political and spiritual meet in paradox: the particular and special align with the universal. Eleven very different and unique interpretations will assure a lively, unusual, contemporary visual arts experience, intrinsically accessible.
Lorraine Riki explores the eternal feminine through fabric and fibre squares as 'MyShrine – Threading Feminine Ancestry'. Reva Mendes treads a path of health and the cycle of life in her 'Takahia te ara Whanui a Tane', while Lindsay Antrobus Evans' 'Mortice and Tenet' investigates the thread of male ancestry in building materials.
Valerie Fife's painting is more materials driven, a universal 'Shrine of Peace' achieved through personal balance within. Claire Kaahu White's 'Ahurewa' is more literal. She photographs the altar at the church and uru pa where her ancestors are buried. Other artists are Lovey Fife, Jill Reilly, Patricia Cramp, Emily Glew and Auckland's Leo Tahitahi, who hails from the local Te Ihutai hapu. His installation of poi speaks to the role of kapa haka in contemporary Maori society, an epitome of cultural achievement. Simon Atkinson from Christchurch with his wooden 'Angels' completes the catalogue.
At least five artists will present installations, some interactive. There's relevance for everyone in the 'Shrine – Ahurewa' exhibition.