At the Margin of Empire
A talk by biographer Jennifer Ashton
on John Webster and the Hokianga 1842 – 1900
2pm Saturday 13 June 2015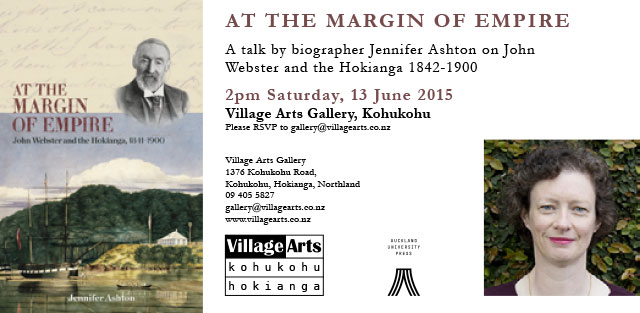 Village Arts gallery Kohukohu, Hokianga – in association with Auckland University Press
Please RSVP to gallery@villagearts.co.nz or ph: (09) 405 5827
Jennifer Ashton's book "At the Margin of Empire" is for sale at Village Arts.
Ashton, who graduated from the University of Auckland history department with a PhD in 2012, uses the life of John Webster as a unique lens through which to view the early history of New Zealand.
An intimate and revealing account of life at this time, Ashton's biography explores the wider transformation of relationships between Māori and Pākehā during the nineteenth century. Described as "a fascinating portrait of both man and milieu" by Paul Little in North & South, the book has received numerous favourable reviews.
Food and refreshments are available right next door at Koke Hotel/Cafe.
We look forward to seeing you here on the day.