By far one of the best galleries in Northland, if not the best!
Mike Nettmann, Northern News
Village Arts is Hokianga's community art gallery. Scheduled solo and group exhibitions plus a showcase space highlight the area's established and emerging artists.
The spacious white-walled gallery showcases contemporary painting, photography, mixed media, sculpture, furniture, object, jewellery, ceramics, and traditional and contemporary Māori arts.
Village Arts is open from 10am-4pm 7 days.
On Te Ara Manawa: The Heart Trail and Northland Art Trail, Village Arts is located on the main street in historic Kohukohu on the northern shores of Aotearoa/New Zealand's spectacularly beautiful Hokianga Harbour.
Village Arts is a non-profit charitable organisation that operates under the umbrella of the Kohukohu Community Trust and aims to support the development of a robust and vibrant arts community in Kohukohu and Hokianga.
---
Contain
A collaboration between the Department of Corrections,
Redemption Arts & Education Services and Village Arts.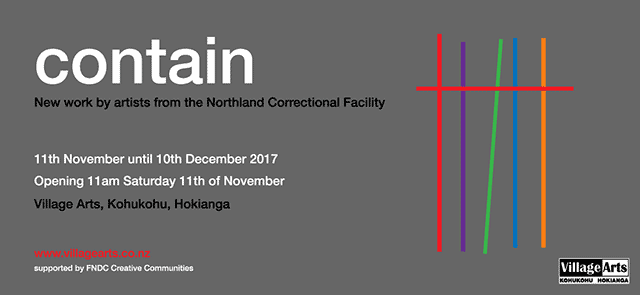 This exhibition offers the men at NRCF an opportunity to explore what it means to make art in the prison environment. Many of the works are collaborative and challenge preconceived ideas about what the purpose of prison art is.
Situated in the Hokianga Village Arts will host artworks made by men who whakapapa to that area. It will be a homecoming of sorts a joyful and challenging experience for the artists and the community. How can we contain that?
All welcome to this opening..
---