By far one of the best galleries in Northland, if not the best!
Mike Nettmann, Northern News
Village Arts is Hokianga's community art gallery. Scheduled solo and group exhibitions plus a showcase space highlight the area's established and emerging artists.
The spacious white-walled gallery showcases contemporary painting, photography, mixed media, sculpture, furniture, object, jewellery, ceramics, and traditional and contemporary Māori arts.
Village Arts is open from 10am-4pm 7 days.
On Te Ara Manawa: The Heart Trail and Northland Art Trail, Village Arts is located on the main street in historic Kohukohu on the northern shores of Aotearoa/New Zealand's spectacularly beautiful Hokianga Harbour.
Village Arts is a non-profit charitable organisation that operates under the umbrella of the Kohukohu Community Trust and aims to support the development of a robust and vibrant arts community in Kohukohu and Hokianga.
---
Summer Show 2019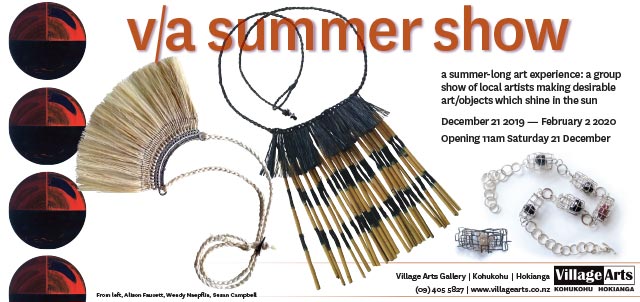 The Village Arts Summer Show is a showcase for our Northland artists' artwork, craft, and objects, that can be taken home on purchase. Come to the opening to support our artists and to get first pick, and come again when the show has updated after the Christmas rush. Our shop has smaller works ideal for Christmas gifts, and there will be a small vintage collection in the Great Little Room.
Many thanks to our supporters. It has been a great year for art at the gallery and we are planning a stimulating 2020 programme.
---